CALL FOR APPLICATIONS "INNOVATION BOOT CAMPS" – Work4youth project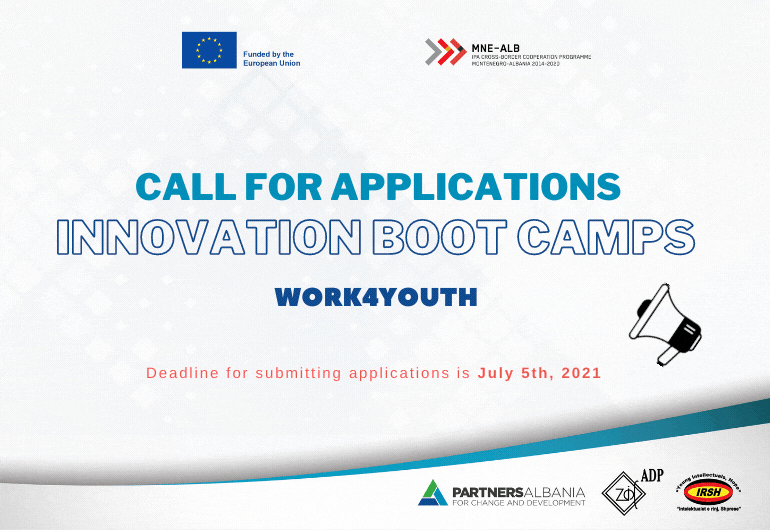 In the framework of the Work4Youth project we will organize on 12-16 July 2021, two "Innovation Boot Camps", respectively in Shkodra for participants from Albania, and in Podgorica for participants from Montenegro.
Work4Youth project goal
The project "Work4Youth" is funded by the European Union through the Cross-Border Cooperation Program Montenegro – Albania 2014-2020, under IPA II, and implemented by Partners Albania for Change and Development, the Association for Democratic Prosperity – ZiD, and Young Intellectuals, Hope.
The project aims to promote employment and strengthen the social inclusion of young people in the cross-border area between Albania and Montenegro (Shkodra Region in Albania and the municipalities of Podgorica, Tuz, and Bar in Montenegro), through:
Improving the youngster's abilities to develop their own business ideas based on innovative skills, new competencies and knowledge.
Increasing opportunities for support to start-up businesses of young people involved in the project.
Increasing support to young entrepreneurs and self-employment through local policies and financial incentives.

Innovation Boot Camp
"Innovation Boot Camp" is a 5-day program*, with a focus on building practical skills of young people selected through an application process, who will intensively receive knowledge and information by being able to engage in entrepreneurial and business activities through the use of innovative approaches and technologies.
At the end of the application process, 30 young people from Shkodra Region, municipalities of Tuz, Bar, and Podgorica, aged 18-30, who are willing to serve as development promoters for their local communities, will be selected to participate in the Innovation Boot Camps.
During the activity days, besides the development of technical knowledge, support and mentoring (leadership, consulting, orientation) will be provided by experts in the field of business management and development, helping participants in preparing a business plan which can be further supported as a "start-up".
At the end of the 5-day program, the jury consisting of experts in the field of entrepreneurship and local businesses will select eight (8) winning ideas that will continue to be supported and promoted by the project until finding opportunities for funding, mentoring, development, etc.
*The program will cover all transportation costs (referring to the value of public transportation) as well as lunch for all participants who will be selected through this application process.
**Only for Montenegrin participants: Accommodation costs will also be covered.
Language for participation in Innovation Boot Camp
Applicants must have knowledge of the English language, as the program provides cross-border activities with young people and other actors from Montenegro.
Eligibility criteria
The application is open to all young people (aged 18-30) from the Shkodra Region, municipalities of Tuz, Bar, and Podgorica, who have a business idea and want to develop it.
Participants from rural areas, young people with special needs, girls, minorities, or young people from other disadvantaged groups are encouraged to apply.
Participants, individually or in groups (teams), must submit at the application stage their idea of starting a business.
Application process
All applications must be made through the Dua Partners Invest platform at the following links:
For Albanian applicants:
For Montenegrin applicants:
Applications can be submitted only by registering on the Dua Partner Invest platform by following the steps below.
Step 1.  First, you will put your email address where it says: Add address;
Step 2.  After that, you will have to verify it in your email address and the page will reopen to complete your information (password / Name / Surname) and click SAVE;
Step 3. You will see the call at FUNDING OPPORTUNITIES, and click OPEN;
Step 4.- You will see the application details in the Call for the Boot camps. At the bottom right of the page click APPLY NOW;
Step 5. – You will need to fill in the Applicants Information and the 6 fields below that are general data.
Step 6.- Download the application form, complete it with your business idea details in either English, Montenegrin or Albanian languages;
Step 7.- Upload the completed application form of your business idea at the section UPLOAD DOCUMENT on the right side of your account;
Step 8.- Applicants selected for admission to the Innovation Boot Camp will be notified by email after July 6th, 2021.
Language for submitting applications:
For Albanian applicants: In Albanian or English language
For Montenegrin applicants: In Montenegrin, Albanian or English language
Support to applicants
To assist youngsters who will express interest in applying, the project will organize orientation sessions regarding the process and application procedures. Register on the platform and participate in the information sessions that will take place on the following dates:
For Albania
| | | |
| --- | --- | --- |
| DATE | PLACE | TIME |
| 29 June | Hotel Rozafa, Shkodra Municipality | 10:00 – 12:00 |
| 30 June | Qendra "Hapat e Lehtë" ish-kinemaja, Vau i Dejës Municipality | 10:00 – 12:00 |
| 01 July | Municipality of Malësi e Madhe | 10:00 – 12:00 |
For Montenegro
| | | |
| --- | --- | --- |
| DATUM | MJESTO | VRIJEME |
| 24 Jun | JU SMŠ "25. maj" | 11:00 – 13:00 |
| 25 Jun | Biznis centar Bar, Poslovni Centar Kula A, sprat V | 11:00 – 13:00 |
| 29 Jun | Training&Event Centre Kuća Čubranovića 1630, adresa Kralja Nikole 36 | 11:00 – 13:00 |
All youngsters interested to participate in the info-sessions above, please confirm your participation for the date and the respective Municipality (according to the table above)
The deadline for submitting applications for Innovation Boot Camps is 5 July 2021.