Financial Management of NPOs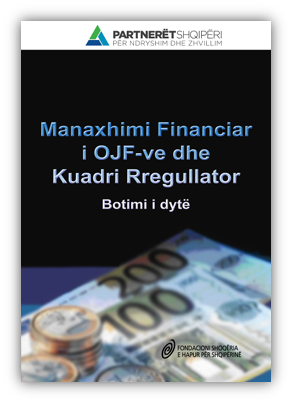 In frame of its work to create an enabling environment for civil society organizations, Partners Albania has updated the Manual on Financial Management of Nonprofit Organizations, an early publication of PA in support of the NPO's work.
The manual presents the basic concepts of financial management, a comprehensive view of accounting systems and reporting, internal controls, budgeting process, financial analysis and taxes applied to NPOs by the state.
The updated publication reflects the changes occurred in the legal and fiscal framework that regulates the activity of NPOs and responds to the new dynamics of the sector's development. Contact Partners Albania office if you wish to receive a copy of the publication.
On June Partners Albania held several regional meetings in Tirana and Elbasan, with finance officers and managers of local organizations, to discuss and consult with them around the issues addressed in the manual, as well as to inform about the developments with regard to the fiscal practical and legal framework.
This Partners Albania initiative in support of civil society organizations, for an efficient planning and management of financial resources and the establishment of effective financial monitoring systems, is supported by the Open Society Foundation for Albania.