Njoftim për vend të lirë pune / Job Vacancy at Partners Albania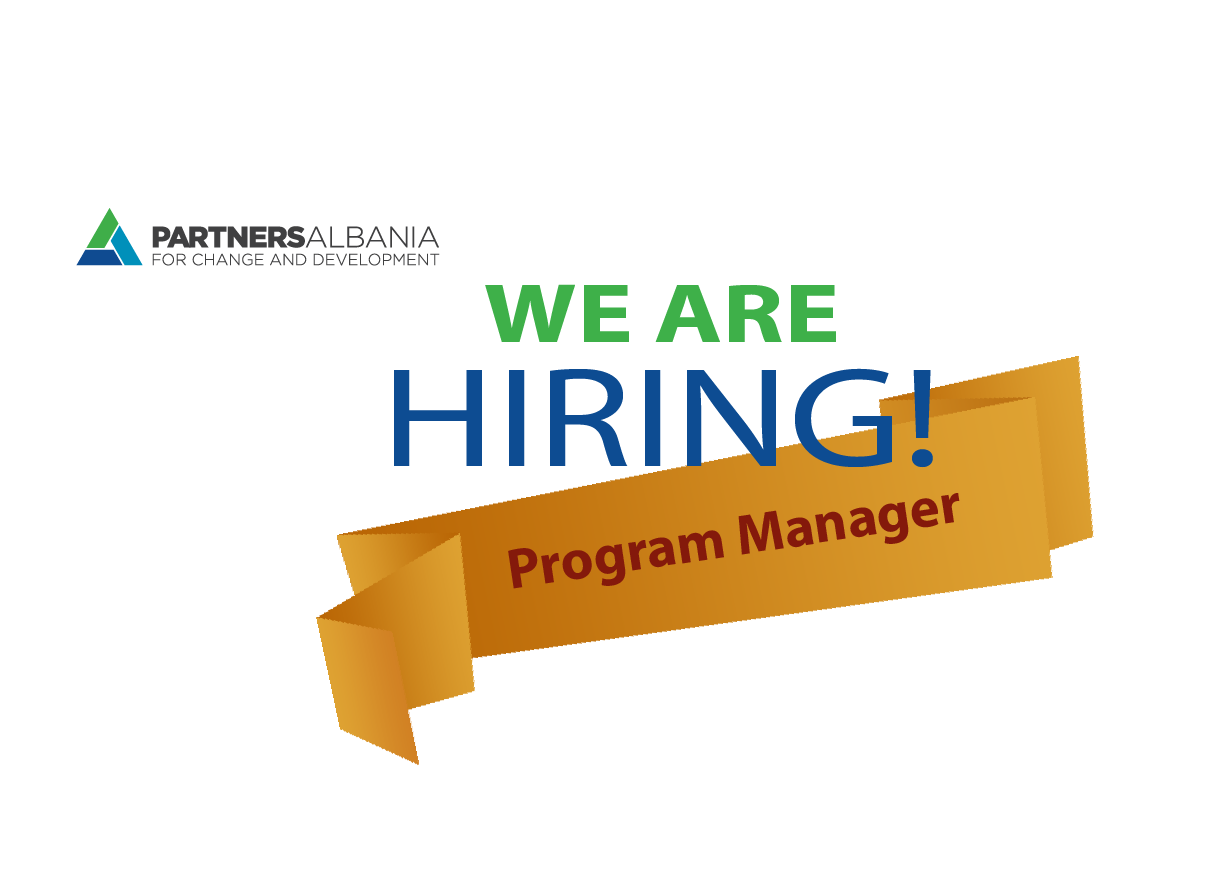 Position Title: Program Manager
Location: Tirana, Albania
Organization: Partners Albania for Change and Development (Partners Albania)
Employment Type: Full Time
Background:
Partners Albania is an independent Albanian NGO established in 2001, working to support civil society and facilitate inter-sector cooperation in order to strengthen democratic institutions and advance economic development.
Partners Albania is a member of Partners Global, a partnership of 19 independent, local organizations in Europe, the Americas, Africa and the Middle East working for peaceful and democratic change.
Partners Albania is seeking a Program Manager who will be responsible for key aspects of Partners Albania's programmatic area "Transparent and Accountable Governance", including: needs assessments in sectors targeted by the program, proposal developments, fundraising, outreach, reporting and coordination, as well as selected management responsibilities including management and supervision of staff program.
The Program Manager should carry out the responsibilities described below independently, with minimum supervision, but also in the context of a professional project team.
Duties and Responsibilities:
The ideal candidate will perform the following tasks:
Manage the projects under the Transparent and Accountable Governance Programmatic area and coordinate the activities with the third parties for the flawless execution of projects;
Develop projects proposals and ensure that all projects are implemented on-time, within scope and within budget;
Develop research methodology and lead/conduct research for the purposes of the program and projects assigned;
Coordinate adequate planning, implementation, evaluation of the program and projects assigned, and prepare periodic reports indicating progress towards expected results, and propose plans of action;
Maintains regular contacts and cultivate partnership in relation to program management with key national and international stakeholders, including relevant ministries, the parliament, associations of local and regional authorities in Albania, municipalities, NPOs, media, international organizations and international aid agencies operating in the field of local governance and decentralization;
Coordinate with the Director of Programs for the strategic development of the programmatic area and lead fundraising initiatives;
Provide the Director of Programs with timely updates and briefings on program progress;
Assemble, supervise and coordinate project staff
Develop professional relationship with external project staff and monitor their contractual obligations;
Contribute to other programmatic areas of the organization and office management as appropriate;
Contribute to information sharing and development of joint initiatives with Partners network and other networks where the Center adheres;
Qualifications:
Master degree in Social Sciences, Political Sciences, Economy or related field plus at least 10 years of working experience;
Proven working experience in program management/project writing and reporting;
Solid knowledge and understanding of legal framework on functioning of local and central government, decentralization, transparency and good governance, and European standards for local democracy;
Work experience with programs/projects focusing on transparency and accountable governance at local and central level;
Work experience with the civil society organizations in Albania required; experience in other sectors preferable;
Work experience in capacity building activities, multi-stakeholder process facilitation, and research;
Solid organizational, analytical skills including attention to detail and multi-tasking skills – able to handle multiple tasks simultaneously and to work in a fast-paced environment
Strong communication skills and team work abilities;
Computer skills (Windows, MS Office programs – Word, Excel, PowerPoint etc., Internet/Email, database management etc.);
Excellent writing and verbal communication skills in Albanian and English languages;
Albanian citizenship.
Salary:  Commensurate with experience
Proposed Start Date:  September 1, 2016
To apply for any of the positions above: 
Please send a cover letter indicating your interest on the position, CV, copy of the diploma, three references and contact information for references to:
Ariola Agolli, Director of Programs
Partners Albania for Change and Development
Rruga: Sulejman Delvina, N.18, H.8, Ap. 12, Njësia Bashkiake 5,
Kodi Postar 1022, Tiranë, Shqipëri,
Kutia Postare (PO Box) 2418/1
Tel. Fax 04 2254881
The deadline for submission of applications is June 27, 2016.
Partners Albania will contact only those applicants who will be invited for interviews or to request additional information.
Partners Albania embraces diversity in its hiring, welcoming individuals of all religions, ethnicity, gender, and orientation to apply.