CAPACITY AND NEEDS ASSESSMENT FOR CIVIL SOCIETY ORGANISATIONS IN ALBANIA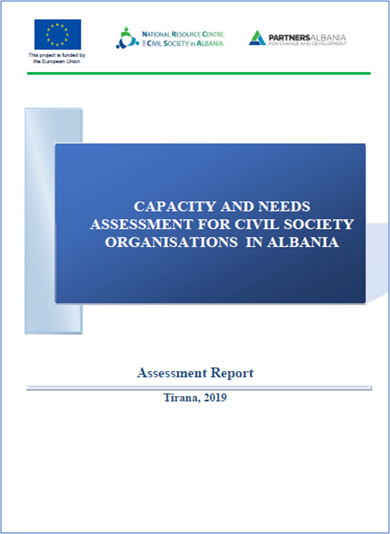 This assessment was conducted by the National Resource Centre for Civil Society in Albania, a platform for civil society in support of strengthening its capacity, policy dialogue and advocacy efforts for an enabling environment.
The purpose of the assessment is to identify the organizational capacities of the sector at national level, the needs and challenges in organizational management and cross-sector cooperation, and to use this information to guide the design of training programs and technical assistance for civil society organizations (CSOs) that National Resource for Civil Society in Albania will provide as part of its first three-year program in support to the sector.
---
National Resource Centre for Civil Society in Albania is an initiative of Partners Albania, funded by the European Union, and implemented in partnership with the Albanian Center for Population and Development (ACPD) and the European Movement in Albania (EMA).