Fostering regional cooperation and policy responses in times of crises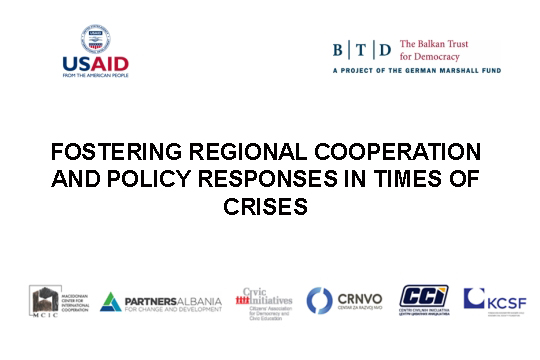 Partners Albania is pleased to share the newest initiative "Fostering regional cooperation and policy responses in time of crises" implemented in partnership with our partners in the Western Balkan region: Civic Initiatives in Serbia, Kosovar Civil Society Foundation, MCIC in North Macedonia, CRNVO in Montenegro and Center for civic initiatives in BiH.
This project aims to offer an overview of the current state of Covid-19 impact on the social-economic areas in the region, from all stakeholder's points of view, thus contributing sharing of experience and challenges, promoting successful practices of adaptability in response to the Covid-19 outbreak and propose policy recommendations to address the problems of various target groups and reduce the political-social-economic pandemic crisis effects.
The project envisages a series of activities centered on relevant stakeholders such as civil society organizations, academia, the private sector, youth and marginalized groups, media, and relevant state institutions in the WB region, to further discuss based on regional evidence of the current state of Covid-19 impact, under the loop of adaptability response, inter-sector coordination response providing a policy recommendation on future action to be taken to mitigate the identified consequences in all targeted groups. At the same time, the project will create an opportunity for synergy for future coordinated regional actions in times of regional crisis.
Project partners for some years now serve as National Resource Centres for civil society in their countries. Through the use of these platforms at the national and regional level, the project aims to advance knowledge sharing, lessons learned, and policy recommendations in response to COVID 19 emergency situation in the WB region.
From the online regional forums organized during 2022 
---
The project "Fostering Regional Cooperation and Policy Responses in Time of Crisis" is funded by the Balkan Trust for Democracy, a project of the German Marshall Fund, and USAID. The project is implemented by Partners Albania for Change and Development, Macedonian Center for International Cooperation, Center for Civic Initiatives, Centre for Development of Non-Governmental Organizations, Civic Initiatives and Kosovar Civil Society Foundation.
| | |
| --- | --- |
| Covid-19 and Civil Society - An assessment overview on the impact of pandemic situation to Western Balkans countries | Download |