Job Vacancy – Capacity Building Manager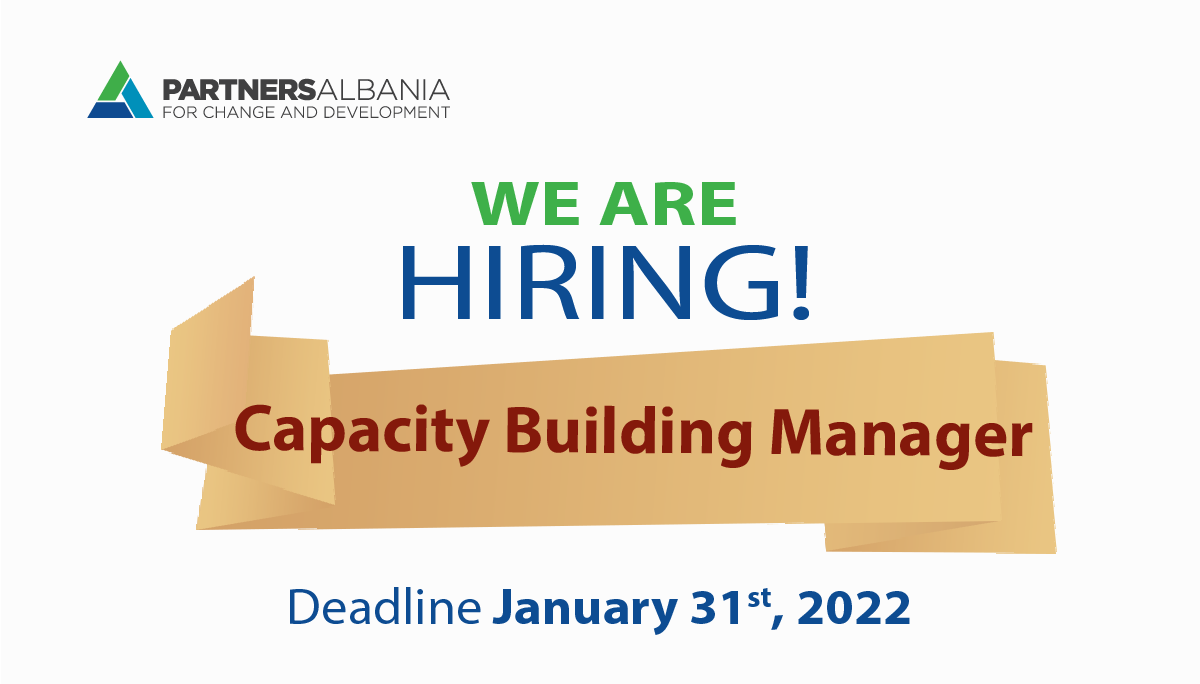 Position Title: Capacity Building Manager
Category: Permanent position
Location: Tirana, Albania
Organization: Partners Albania for Change and Development (Partners Albania)
Background: Partners Albania is an independent Albanian NPO established in 2001, working to support civil society and facilitate inter-sector cooperation in order to strengthen democratic institutions and advance economic development. PA has organized its interventions into four key programmatic areas: 1) Enabling Environment and Sustainable Development of Civil Society; 2) Participatory, Accountable and Transparent Governance; 3) Entrepreneurship and Social Innovation; 4) Philanthropic Activity and Supporting Infrastructure.
Part of the Enabling Environment and Sustainable Development of Civil Society (EESDCS) Programmatic Area, the National Resource Centre for Civil Society in Albania is one of the main programs of Partners Albania which contributes to the strengthening of civil society's capacities to be more effective, transparent, accountable and independent actors and to the creation of an enabling environment for the civil society, participatory democracy and the integration process of Albania into the European Union.
Capacity Building is one of the core pillars of the National Resource Centre for Civil Society.  Through the development of specific capacity-building initiatives and programs, NRC aims to foster the skills and knowledge of CSOs to improve their operational standards and efficiency, increase their participation in policymaking and implementation, as well the CSO's sustainability. The Capacity Building programs offer a wide variety of support to civil society organizations and convening opportunities across many topics, such as organizational development, project writing and management, grants management, fundraising and revenue generation, leadership development, advocacy and lobbying, participatory governance, etc.
Responsibilities (General)
Partners Albania is seeking a  Capacity Building Manager, who will perform his/her roles and responsibilities under the Enabling Environment and Sustainable Development of Civil Society programmatic area.
The Project Manager, as a member of the NRC/EESDCS team, will be responsible for the design, supervision, organization, and management of capacity-building programs, as well as the preparation and management of projects and initiatives that will contribute to further development and expansion of EESDCS programmatic area.
The Project Manager should carry out the responsibilities and duties described as below independently, with minimum supervision, but also in the context of a professional team of national and international experts.
Main Duties and Responsibilities
Design and conduct NPO' needs assessments to identify training and technical assistance needs
Lead in program monitoring, evaluating, learning, and periodic reporting related to capacity building.
Design, coordinate and organize the implementation of capacity building programs, in cooperation with other EESDCS/PA team and external experts.
In cooperation with the team, design an evaluation and monitoring system to assess the impact of training programs and further training needs. Evaluate the effectiveness of training programs and make recommendations for further training interventions or improvement.
Identify the demand for services in support of the civil society organizations and facilitate their delivery in collaboration with the PA team and the network of external consultants;
Provide training and coaching individually or as part of a team.
Contribute as part of the team in sustaining and expanding the Enabling Environment and Sustainable Development of Civil Society (EESDCS) programmatic area.
Perform other work-related duties as required.
Qualifications:
Advanced university degree (Master's degree or equivalent) in Social Sciences, Political Sciences, or related field.
At least 5 years of professional experience of work in and/or for the NPOs.
Previous professional experience in training delivery and capacity-building interventions for the non-for-profit sector.
Previous professional experience in capacity building needs assessment design and implementation.
Strong communication and networking skills.
Good organizational and analytical skills including attention to detail and multi-tasking skills.
Able to work in a fast-paced environment.
Excellent command of spoken and written Albanian and English.
Salary:  Commensurate with experience
Expected Start Date:  1 March 2022
Application procedure:
Interested candidates are requested to apply by submitting: 1) a cover letter indicating your interest and motivation, 2) a relevant CV (EU format) and copies of documents supporting your academic and/or professional experience, 3) a short essay about your experience and how it relates to the position (up to 500 words), 4) Three letters of reference. Please, feel free to include any other documents that you think are relevant.
Only candidates that submit all the above-mentioned documents will be considered for review.
Please send your full application package with the heading "Application for Capacity Building Manager to aagolli@partnersalbania.org, not later than 31st January 2022.
Partners Albania will contact only those applicants who will be invited for an interview. Before applying, we encourage applicants to consult Partners Albania webpage in order to familiarize themselves with our work.
Partners Albania embraces diversity in its hiring, welcoming individuals of all religions, ethnicity, gender, and orientation to apply.