Regional Event "A click away from entrepreneurship!"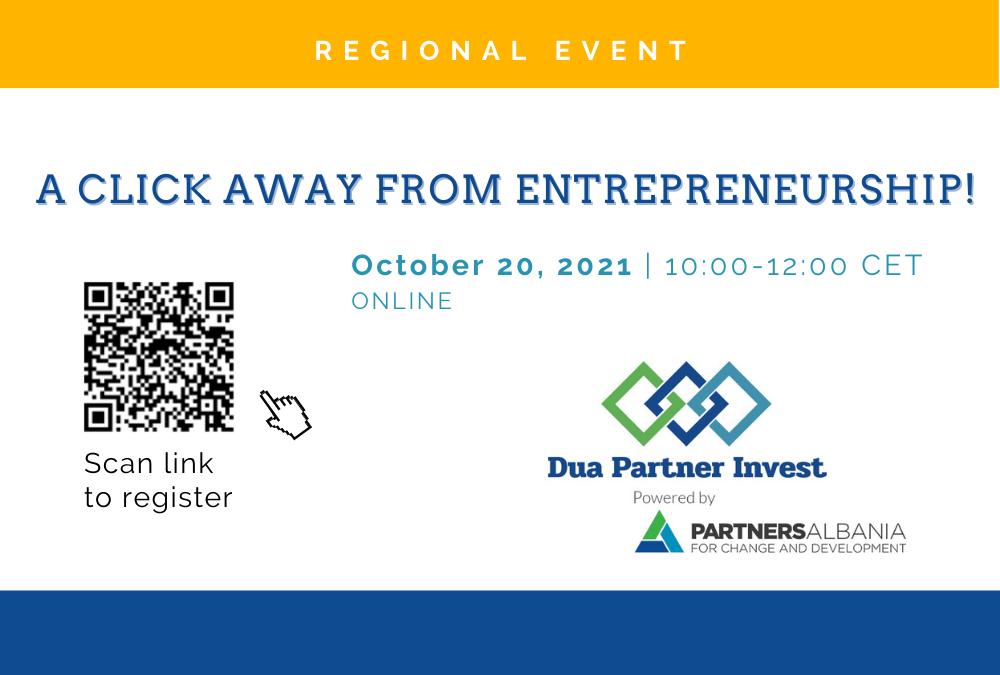 20 October 2021
ONLINE (ZOOM Platform)
In this regional event, Partners Albania will be delighted to share the latest exciting opportunities for start-up development that are in place in the Western Balkan Region, by bringing together all the stakeholders, representatives from the donor community and public authorities, venture capital firms, business angels, entrepreneurship hubs, acceleration programs, supporting organizations, role models startups, and civil society organizations from the Western Balkan 6 countries.
Distinguished speakers in the event will discuss the opportunities, supporting mechanisms, and the important role that start-ups and new enterprises can play in the region's future economy and society. They will provide insight and discuss on national legal and regulatory frameworks, policies, and existing supporting instruments for start-ups and entrepreneurship and their effectiveness, on funding, networking, and investment opportunities, as key elements for empowering the start-up's ecosystem.
In this regard, Dua Partner Invest platform, the latest initiative of Partners Albania in the field of entrepreneurship and innovation, will be officially introduced to a wide audience. This virtual hub serves to WB6 start-up community, boosting connections, outreach, and facilitating access to funding opportunities.
Find here the Agenda of the event.