SOCIAL ECONOMY SCHOOL – CALL FOR PARTICIPATION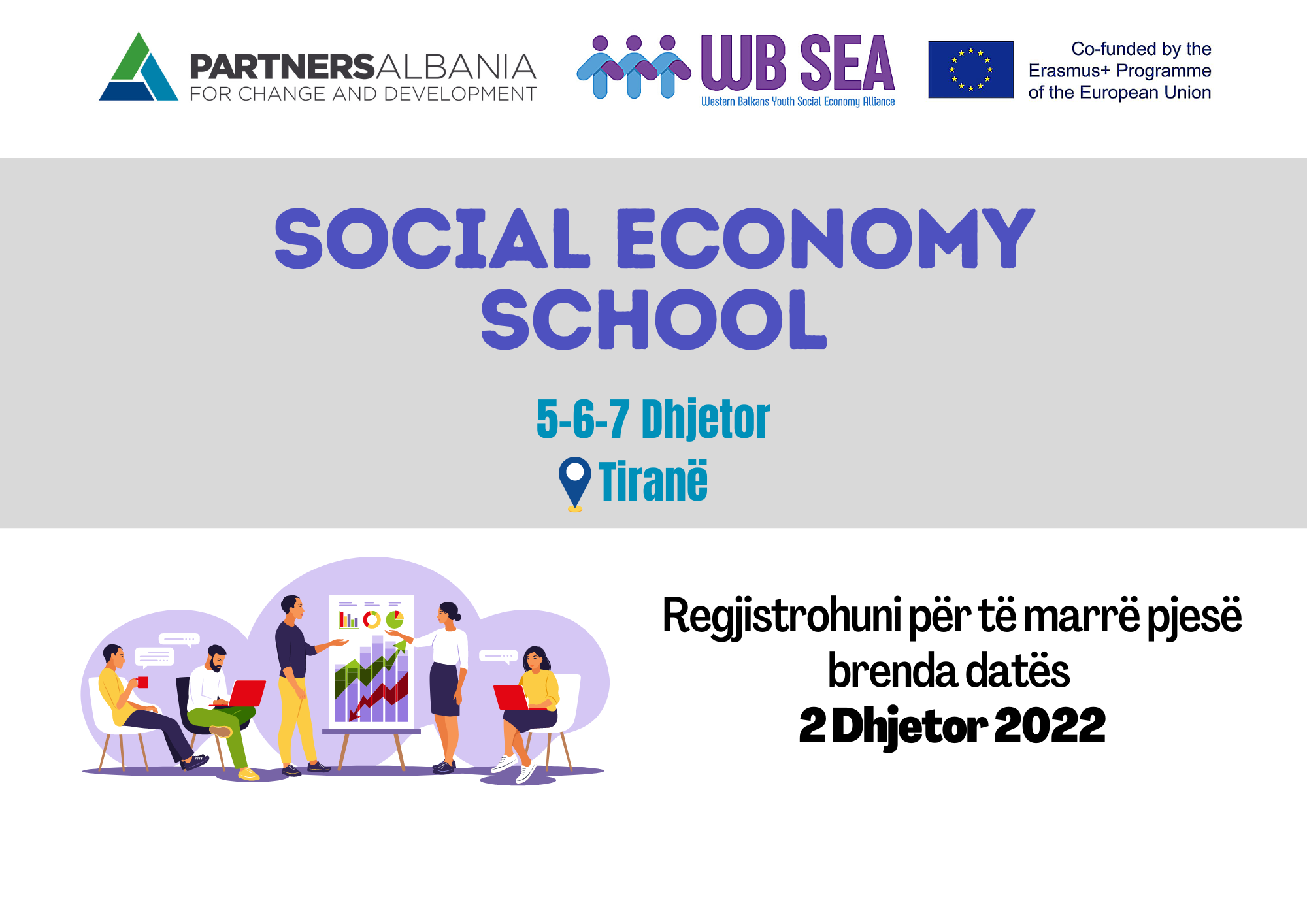 Partners Albania invites youngsters to participate in the Social Economy School.
The activity consists of a 3-day training where young social entrepreneurs, employees of youth organizations, youth workers and other interested young men and women, belonging to the age group of 18-30 years, will learn about the concept of Social Economy and through practical and theoretical work will get basic knowledge on how to develop a concept and idea, using social economy as a solution on different community issues, but as well as an employment opportunity.
The training aims to encourage young people to start and develop a social business, supporting them at each stage of their entrepreneurial journey. It will take place on December 5-6-7, 2022 in Tirana, from 10:00 a.m. to 4:00 p.m.*.
Some of the topics that will be discussed are:
Social Economy and Social Entrepreneurship;
Business Model of Social Entrepreneurship;
Problem-solving model;
Business idea model; etc.
The methodology has been developed as part of the activities of the WB SEA project.
All interested in participating in the activity should express their interest by sending an email to amustafa@partnersalbania.org by December 2, 2022, specifying their first and last name, age, city, and a short bio about themselves. The number of participants is limited, therefore early applications will be selected.
Selected participants will be notified by email by December 4, regarding the venue and detailed agenda of the activity.
* For participants traveling from other cities to Tirana, reimbursement of transportation expenses will be offered, upon demonstration of a public transportation Ticket. A part of the program, lunch will be provided.
---
The training is developed in the frame of the 'Western Balkan Youth Social Economy Alliance' (WB SEA) project and is the third activity of the WB SEA Lab, followed by two trainings in which the young SE facilitators were equipped with knowledge and skills to work on the local level with youngsters form their community in considering the social economy as one of tools for them to make a difference in their community, and for their social and economic integration.
The WB SEA project aims to create a favorable environment for incorporating the social economy in youth policies and youth work practices in the WB region while fostering networking and thematic cooperation. WB SEA is one of the few regional networks dedicated to building the capacities of civil society organizations to promote, advocate and use the social economy as one of the most effective instruments to engage, empower and create opportunities for the WB youth.
The consortium is led by ADP-Zid (Montenegro), in cooperation with Diesis Network (Belgium), Partners Albania (Albania), CDP Globus (Bosnia and Herzegovina), COSV (Italy), Lens (Kosovo), Arno (North Macedonia) and Young Ambassadors (Serbia). WB SEA is a project financed by the Erasmus + program of the European Union