WISEs as a tool for the development of local youth entrepreneurship – Online Workshop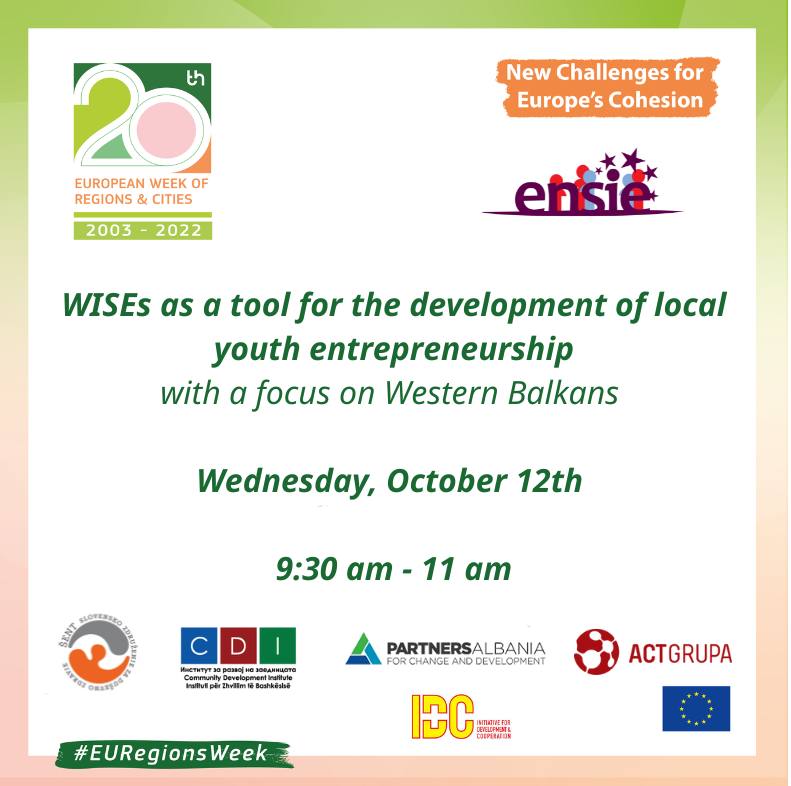 On October 12th, 9:30 – 11:00 CET, the European Network of Social Integration Enterprises – ENSIE and its partners (one of which is Partners Albania) are organizing a webinar in the framework of the #EURegionsWeek !
Work integration social enterprises – WISEs – are deeply rooted at the local level, active in local value chains, and active in the integration of people with support needs. Supporting young people in the Western Balkans to start their own social business is an effective mechanism to bypass the challenges of labor market.
The event will discuss ENSIE's work in the Western Balkans and will look at the WISEs4Youth project as an example.
This workshop has three goals: to showcase how the WISE model can have an impact on the local job market, to demonstrate why developing WISEs in the Western Balkans is particularly crucial, and to explain how to encourage the involvement of young people. The workshop will have a special focus on Tirana, Albania, as the 2022 Youth Capital.
Co-organised by ENSIE and SENT, the workshop will see contributions from most of the partners in the project.
For more information and registration visit: https://eu.app.swapcard.com/…/plan…/UGxhbm5pbmdfOTYwNDg1