Youth Hub for Western Balkan and Turkey – WB & T for EmploYouth
Since 2016, PA is part of the network Youth Hub for Western Balkan and Turkey, a network of youth organizations whose objective is to ensure greater involvement of young people in Albania, North Macedonia, Montenegro, Serbia, and Turkey.
The network's purpose is to foster social, economic, and political inclusion of young women and men through the implementation of policy advocacy initiatives, organized partnership-building with stakeholders, and awareness-raising activities.
One of the main activities of the network is the ongoing monitoring of the situation regarding the political, social, and economic participation of young people. An Annual Report is prepared in each country by partner organizations measuring progress against a set of indicators that are uniform for the entire region.
In March 2020, the network started implementing WB & T for EmploYouth initiative which aims to create informed and constituency-based solutions for improved youth employment policies in the WB&T. The project contributes to enhancing the capacities of civil society to engage constructively with local and national governments on key societal challenges including on issues relevant to the Western Balkan Strategy. Specifically, it aims to build capacities of grass-root organizations in rural areas that work with youth in NEET and finance innovative ideas to enhance employment opportunities for youth in NEET.
In 2018, the network selected in each of the member countries, three local grantee organizations. "Youth Act Center" from Tirana, "Epoka e Re" in Fier, and "Social Center for Helping People in Need" in Fushë-Arrëz were the grantee organizations from Albania.
In December 2021, Partners Albania announced the second Call for Proposal as part of which were selected for support 8 initiatives.
Grant beneficiary organizations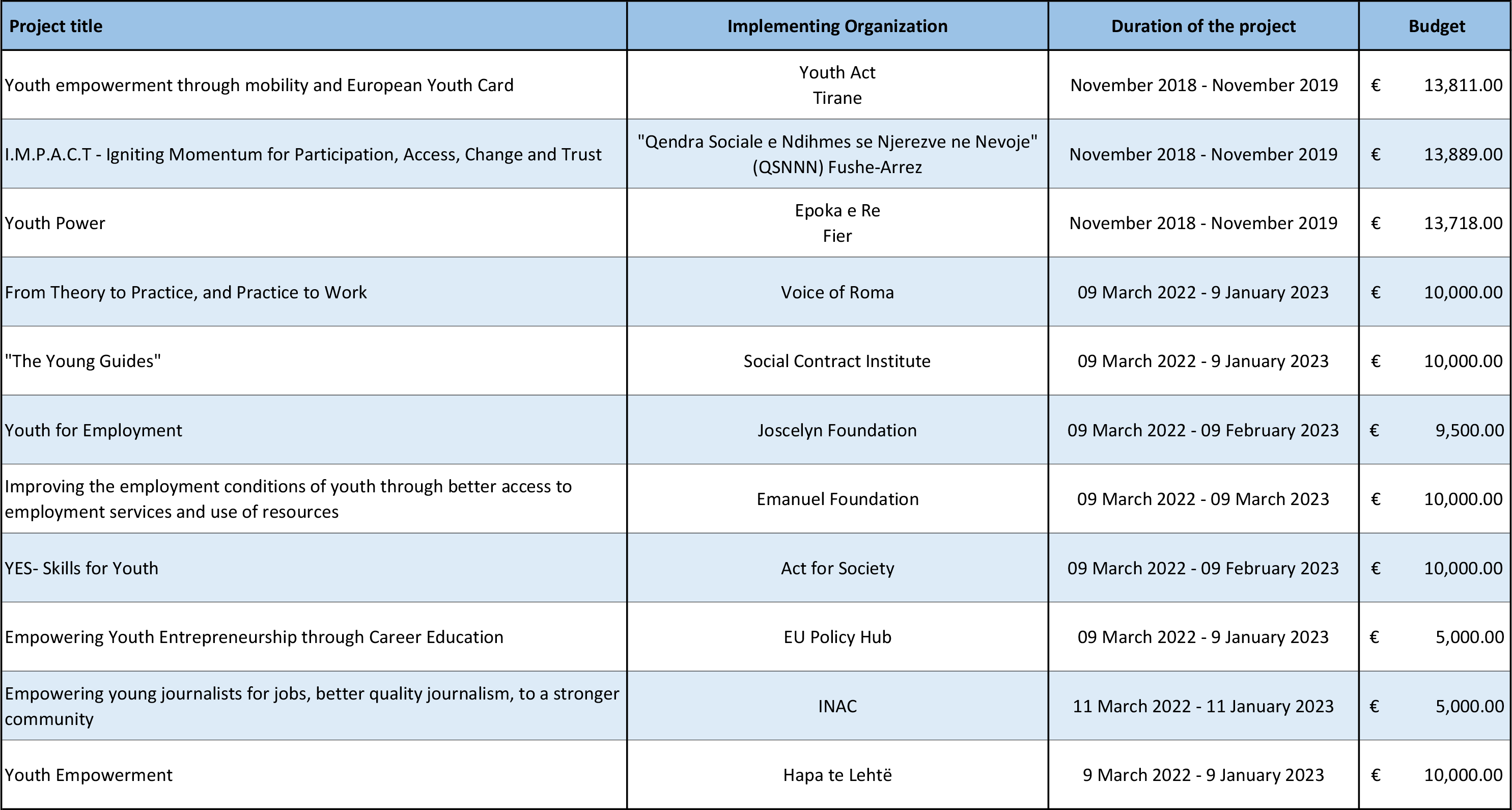 ---

 the Youth Participation Index 2020 Regional Report 
| | |
| --- | --- |
| 2021 Annual monitoring report on political, social and economic participation of youth in Albania | Download |
| 2020 Annual monitoring report on political, social and economic participation of youth in Albania | Download |
| The impact of COVID-19 on youth employment in Albania | Download |
| An analysis of NEET and vulnerable youth- Baseline study 2020 | Download |
| 2019 Annual monitoring report on political, social and economic participation of youth in Albania | Download |
| 2018 Annual monitoring report on political, social and economic participation of youth in Albania | Download |
| 2017 Annual monitoring report on political, social and economic participation of youth in Albania | Download |
| 2016 Annual monitoring report on political, social and economic participation of youth in Albania | Download |