Our board
Neritan Kallfa is an Albanian lawyer, practicing law since 1991. Neritan has worked extensively for the Albanian banking system from 1991 until 2002. He is admitted to Tirana Bar, Albania since 2002 and a senior partner at Tonucci & Partners. He is also a visiting lecturer at the Magistrate School of Albania since 1996.  Neritan has a degree in law from the University of Tirana (Albania), a Diploma in Private International Comparative Law from The Southwestern Legal Foundation, International and Comparative Law Center, Academy of American and International Law Texas, Dallas (USA) and LLM International, Commercial & European Law from University of Sheffield, Sheffield (United Kingdom).
He is a member of the Tirana Bar, Albania (lawyer), ICC CEEAG Paris, France (international arbitrator); SWIICL Dallas, USA (member), ICC Albania, Arbitration National Committee (Member).
---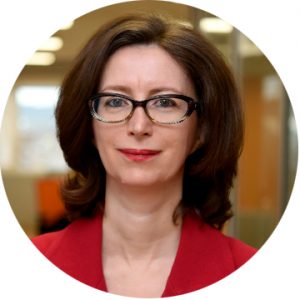 Treasurer
Mirjeta Emini
Mirjeta Emini is a Leader of PwC Albania since 2017.  She joined the firm after 16 years of experience with KPMG and as a Partner with Boga&Associates. Mirjeta has broad experience both in accounting and tax matters. She has assisted on some major merger and acquisition deals, privatization deals, as well as on liquidation procedures of local and foreign companies. During her career, she has provided tax and accounting advice on complex transactions and has supported many clients investing in Albania and Kosovo.
Mirjeta is a member of the Institute of Chartered Auditors of Albania, Kosovo Institute of the Certified Public Accountants, a Board member of the Partners for Change, an advisor near the National Accounting Council in Albania, and a former Treasurer of the French Chamber of Commerce in Albania.
---
Klodiana leads the organization "Faktoje" which provides fact-finding services since 2019. She assumed this position after three years of experience as Public Relations and Communication Manager at the international children's organization World Vision, where she was recently awarded the "Global Brand Award" by the global office. Mrs. Kapo comes to "Faktoje" after a 16-year career in the most popular media outlets in the country where she has reported mainly on social issues and more specifically on the education system, health, youth development, etc.
During her career, Mrs. Kapo has worked as a journalist at Top Channel (where she counts dozens of documentaries and personal stories), has had her weekly column in the newspaper "Shqip", and has worked as editor-in-chief at the Albanian Public Television.
Klodiana also counts a series of successful awareness campaigns for local and international non-governmental organizations and is a co-author of two books.
---
Member
Alketa Skëndaj
Alketa (Qendro) Skëndaj holds a joint Master's Degree in Public Administration from the Faculty of Economics, University of Tirana (Albania) and Nebraska University.
Her career started in her birthplace, Gjirokastër, and from 1998 to 2005 she held the position of Executive Director of a vocational training center for children and youth co-financed by Italian and German' government-funded organizations, and other donors like UNICEF, NOVIB, UNDP, OSCE Presence in Albania.  She has been an activist for civil society since 1995 and played an important role for the children and youth rights in specific and in the development of civil society at large.
Afterward, she worked in managerial positions for a period of 12 years for corporates in the industry of banking (Procredit Bank Albania), telecommunications (Vodafone Albania), and oil and gas for the international project Trans Adriatic Pipeline.
Alketa Skendaj is also a senior trainer for public administration and one of the nationally certified trainers from the Council of Europe for the Principals of Good Governance. She has been delivering training and designing curricula since 2005 for the Albanian School of Public Administration; Academy of Political Studies; Council of Europe and a handful of environmental and other non-profit organizations.
---
Elira Sakiqi is a Ph.D. holder and has been a Lecturer at Tirana University until 1991. During 1991-1997 she has worked for the World Bank Group in Tirana, as a Project Officer in charge of projects in the Education, Health, and Social service sectors. Later, during 1997- 2018, she worked as Senior Project Officer for the International Finance Corporation, member of World Bank Group, in support of private sector development.
Mrs. Sakiqi has given a substantial contribution to Partners Albania's work with regard to the Green Business Competition and Philanthropy Awards.
Mrs. Sakiqi is a member of Partners Albania's Board since 2019.