Advocacy and local elections, Partners Albania experience in 2011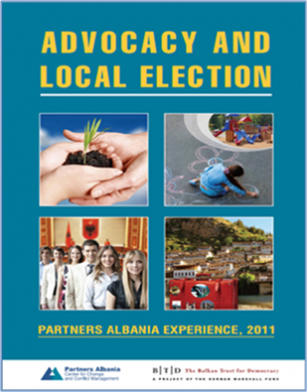 On May 8, 2011 Albania held the local elections for Mayors and Local Government Councils. These were the first local election held according to the Electoral code adopted in 2008.
Partners Albania implemented for the second time an advocacy approach to support the democratization process, through introduction and implementation of democratic practices of citizens' participation in electoral processes.
This initiative helped to increase citizen participation in the local electoral process; improve the level of communication between citizens and future local leaders; foster dialogue and influence of citizens and civil society in the agenda of the candidates for Mayor and increase accountability of elected leaders. This initiative showed citizens how to use elections to achieve common goals through working together.
Partners Albania assisted civil society organizations and other interest groups such as intellectuals, students, women, etc. in establishing local coalitions and identifying priority issues. PA also worked towards increasing their capacity to design and implement advocacy campaigns around priority issues identified. Advocacy campaigns culminated in getting the pledges to realize the local issues, from all candidates for mayor in Berat, Elbasan, Korca and Pogradec.Monitoring of the promises and discussion meetings between coalitions and elected mayors of respective municipalities followed the local elections, in the effort to identify ways how to keep these pledges and to mobilize all stake holders at the local level.
This publication emphasizes practices of citizens` participation in the election campaign for local government that resulted during the project implementation.
| | |
| --- | --- |
| Advocacy and local elections, Partners Albania experience in 2011 | Download |