Development of social enterprises – Potential for job creation for disadvantaged groups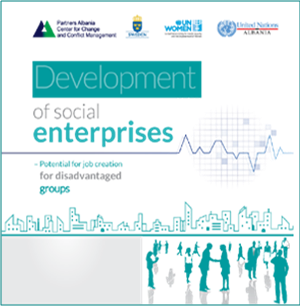 This study was conducted by Partners Albania in cooperation with the Ministry of Social Welfare and Youth, National Social Service and the National Employment Service with the technical support of the UN Women, in framework of the Cooperation Program 2012-2016 between the Government of Albania and the United Nations.
The purpose of this study was to give an overview of the development of social enterprises in Albania, identify the characteristics of social enterprises and their potential for development, assess capacities of unemployed women and girls, and role of state institutions, local businesses and civil society organizations in support of their employment. The study focused on the regions of Tirana, Durrësi and Elbasani.
| | |
| --- | --- |
| Development of social enterprises - Potential for job creation for disadvantaged groups | Download |